The COVID-19 pandemic has affected the lives of millions of people globally. Across the US, people have experienced a shift in their daily way of life, their jobs, and family dynamics drastically over the past several weeks with the "stay-at-home" policy mandate. With this new norm and no immediate end to the quarantine and social distancing come major adjustments, including finding new ways to stay on track with professional goals.
On March 13, 2020, the NCEES announced that the April 2020 paper-and-pencil exam was canceled in an effort to help contain the spread of COVID-19. Examinees will receive a full refund for exam fees as per the NCEES website, and registration dates for the October 2020 exam are yet to be announced. This leaves candidates just over six months to register, develop a study schedule and prepare for the PE exam. Studying for the exam during this new adjusted normal way of life can present certain challenges, but these challenges can be minimized by incorporating minor adjustments.
For starters, examinees are encouraged to create a study space or workspace. This is simply a dedicated space where the individual can go to that is free from distractions. Social media, television, and even other people can diminish concept interpretation and cause examinees to lose focus. In situations where space is shared, examinees should establish specified workspace hours. This helps to establish a routine that mentally prepares them for the exam. This is one proven technique that leads to a clear path for success on the exam.
It is challenging to separate work and home duties. In this new norm, specific work and home tasks can easily overlap. It is likely that some exam candidates are simultaneously caring for children or other family members, working and staying engaged during work hours, and/or studying. If possible, examinees should attempt to balance by setting specific boundaries. This means being deliberate with study time and saying removing distractions whenever possible.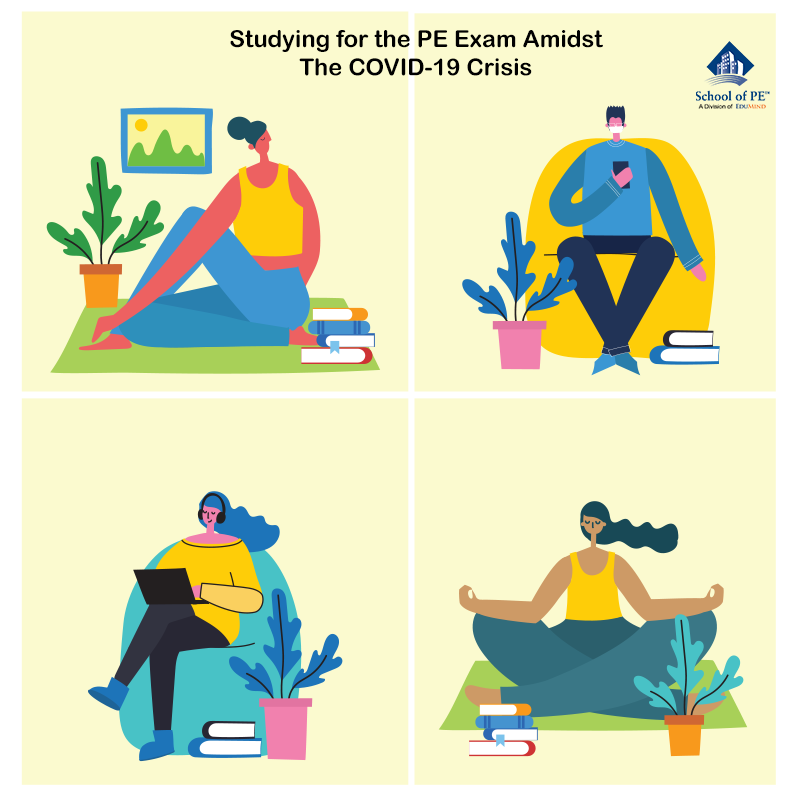 Exam candidates should also take frequent breaks to allow themselves the opportunity to step away and reset. Taking a walk or exercising is great for relaxation; it allows individuals the opportunity to regain focus, especially for more challenging material. Aside from creating the proper workspace, developing a routine and study schedule, and taking frequent breaks, exam candidates should also dress appropriately.
Although it may seem like a trivial detail, dressing appropriately is another way to maximize study performance. The old saying "dress for success" certainly comes into play when preparing for the exam. This is not to say that attire must be business or business casual, but examinees should avoid being in their pajamas. This can certainly diminish positive and productive exam studying.